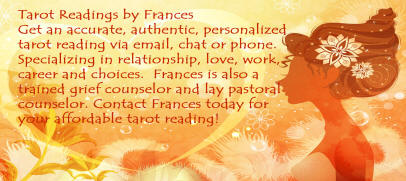 Facebook Divination/Tarot Groups
Please Join!
Fabulous Psychic Readings FB Group
Accurate Psychic Readings FB Group
Austin Psychic Readings FB Group

Love Tarot Card Reading - A Way To Find Your Perfect Match
by Tanya Tarot
(submitted 2013-09-25)
A tarot card reading can help and guide you through troubled emotions and thoughts which are full of suspicion by offering a reflection of your past, present and unpredictable future and helps you to clear cloudy thoughts so that you can take right decision and guide your life. When we have clarity of mind then you feel more relaxed and decision and choices can be made more easily. Like other emotions which confused us in our life, love is also one of them. It is just like weather, hot and steamy one day, foggy and cold the next. There are moments in life, during which we want to know about our love life. In the tarot, there are love cards that are very useful for this type of specific inquiries which enable us to select right life partner in our life. Your daily love tarot is like a forecast for each day.
If you are looking forward to know your love situation or if doubt seem to keep lurking like weather my partner is faithful, should I trust this person, should I end this relationship, does he or she really love me etc then love tarot card reading will give you an objective snapshot of situation and it will help you to make the best decision for your future. So you can save your relationship and clearly see how the situation is really like and it surely helps you to take a right decision.
Love Tarot Reading is for you to know your relationship in general. It will not provide other types of details. Very much like love itself the tarot shows all facets of life. Tarot of love is meant to reflect the emotional dimension of loving couple. The first two cards ask for the overall characteristics of both lovers while card three and four refer to the intensity and purity of emotions. Love tarot reading will help you find true love and you will be able to analyze in a better way the problems with your partner. Love tarot reading uses some of the following tarot cards like the Distant Past, The Recent Past, Your Love life now, future influence on love, obstacles to overcome these obstacles, hope and fears in love, helpful energies in love etc. So make a consultation of these love tarot cards before making any hasty decisions so that you can save your love life and enjoy a blissful life.
About the Author