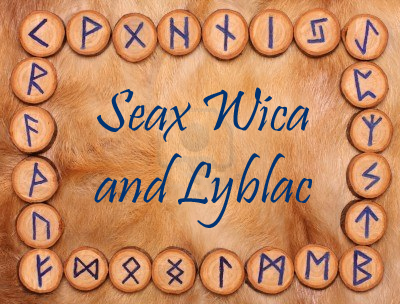 Seax Wica And Lyblac
seidr
A Source-Book of Seid by James Chisholm, Stephen E. Flowers
Seidhr, Spaecraft and Leechcraft resources.
1. "A Source-Book of Seid" by: James Chisholm/ Can find at Runa Raven Press
(This is a source book. It's good when you need to make quick references.)
2. "Chanting Around the High Seat" by: Eric Wodening. I can't find a link where you can buy it.
(Another source book.)
3. "Magic of the Norse Goddesses: Mythology-Ritual-Tranceworking" by: Alice Karlsdóttir
Runa Raven Press
(A decent book)
4. "The Book of Seidr: The Native English And Northern European Shamanic Tradition." by: Runic John. / Capall Bann
(This book has "some" useful information. It has some old law codes in it and explains. How you can glean information about the practice of Seiðr from them.)
5. "Crossing the Borderlines: Guising, Masking, and Ritual Animal Disguises in the European Tradition." by Nigel Pennick/ Capall Bann
(This book has some useful information also but it focuses on practices after the conversion.IIRC)
6. "Leechcraft: Early English Charms, Plantlore and Healing" by: Stephen Pollington / Anglo Saxon Books
(This is a great book. It has three (IIRC) different leechcraft books translated in it. It's full of useful information.)
7. "The Quest for the Shaman: Shape-Shifters, Sorcerers and Spirit Healers in Ancient Europe." by: Miranda Aldhouse-Green / Amazon
(This is an archeological book about sites that relate to shamanism in Europe)
8. "Road to Hel: Study of the Conception of the Dead in Old Norse Literature" by: Hilda R Elis Davidson / No link
9. "Scandinavian Folk Belief and Legend (Nordic Series, Vol 15)" by: Reimund Kvideland /Amazon
10. "Shaman of Oberstdorf: Chonrad Stoeckhlin and the Phantoms of the Night(Studies in Early Modern Germany) by: Wolgang Behringer / Amazon
(This is a book about Chonrad Stoeckhlin. Who was tried as a witch in Oberstdorf.)
11. "Signs, Cures, and Witchery: German Appalachian Folklore" by: Gerald C. Milnes /University of Tennessee Press
12. "SNAKE FAT AND KNOTTED THREADS An introduction to traditional Finnish healing magic" by: Kati-Ma Koppana / Heart of Albion Press (Scroll Down)
13. "Vlusp Seir as Wyrd Consciousness" by: Yngona Desmond / Amazon
14. "The Night Battles: Witchcraft and Agrarian Cults in the Sixteenth and Seventeenth Century ." by: Carlo Ginzburg / Amazon
(See the "What are you reading now?" thread on the Asatru board for a description of this book.)
Some of these books aren't all that great and some are priceless. And of course they can't replace the Lore.